Congratulations to the following students who will be participating in MSVMA State Honors Choir:
Sydne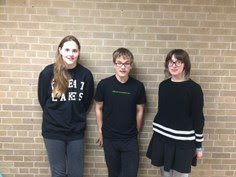 y Warner (10th)
Alexander Dekker (12th)
Delaney Finn (9th)
To earn this position they had to first earn a place in the Regional Honors Choir, then audition to advance to this round. The State Honors Choir program will perform at the Michigan Music Conference in Grand Rapids, MI on Saturday, January 21st.
We are so proud of their efforts and achievements, and the way they represent the IA Music Community! Bravo!