Seniors Sophia Kim (violin) and Jason Du (cello) will be performing at the Carnegie Hall as part of the 2017 High School Honors Performance Series. Participation in one of the five Honors Ensembles is limited to the highest-rated high school performers from across the world.
Earlier this year, Sophia and Jason auditioned for the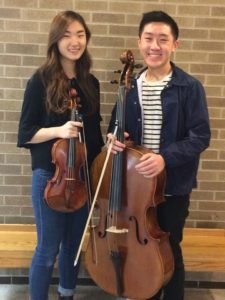 and have been accepted after a review by the Honors Selection Board. Acceptance to the elite group is a direct result of the talent, dedication, and achievements demonstrated in their applications and audition recordings. They will travel to and stay in New York for five days in February 2017, learning from world-renowned conductors and get a taste of the New York City. The performance will take place on Sunday, February 5, and is open to the public.
According to Morgan Smith, Program Director, "Being selected to the Honors Performance Series is something each Finalist should be extremely proud of accomplishing. We processed more than 18,000 nominations this year and have selected nearly 750 of the most talented student performers from around the world. Working with these conductors and performing at Carnegie Hall is a once-in-a-lifetime experience that these musicians never forget".
It is a great honor to have two musicians representing IA at this selective event. We are very proud of them.