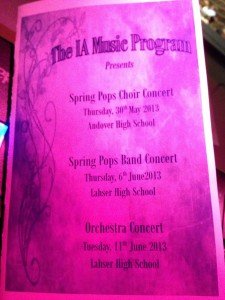 It has arrived. Our final concert of the IA concert season. Please join us June 11, 2013 at Lahser High School for the String Orchestra and Symphony Orchestra on the final concert of the year.
The orchestras are proud of this the final concert of the year. The string orchestra will be performing first with music from Purcell to Janacek. Then the symphony will be accompanying and honouring our fantastic seniors on their final concert of the high school career.
We will also be honouring outgoing Music Booster President Lisa Martin on her fantastic tenure with the IA family.
Please join us!